bubliq is more than a soda maker.
bubliq is a drink carbonator that combines minimalistic design, ease of use and unique functionality in the world's slimmest soda maker.

Why bubliq drink carbonator?
Nordic minimalism
bubliq drink carbonator is with its 8 cm wide body the world's slimmest soda maker! The slim, minimalistic design will look great on any kitchen counter.
Easy operation
Tired of clumsy soda makers that are difficult to use? bubliq drink carbonator combines slim design and ease of use. Thanks to the Air-Charge technology you simply put the infuser cap on the bottle, insert the bottle on the stand, and carbonate by pressing the top a few times. No screwing or bending of big bottles like on the old soda makers.
Sparkle ANYTHING!
bubliq drink carbonator is more than just a soda maker. It is a carbonator that adds fizz to ALL your beverages. Turn your wine into sparkling wine or make a fizzy lemonade. You can even carbonate drinks with fresh fruit and vegetables! It has never been easier to make delicious drinks!
Reliable
With bubliq's patented system, you can safely add fizz to all your drinks. The unique structure of the carbonation system makes it possible to sparkle your drinks without running the risk of foaming over or blocking the valve.
Easy to clean
Unlike other soda makers, the infuser tube on bubliq drink carbonator is mounted in the cap which makes it fast and easy to clean. By keeping the infuser cap clean, you ensure the hygiene is always at its best.
Compatible with all gas cylinders
bubliq drink carbonator uses a universal connector that makes it compatible with all 425 g gas cylinders. This means you can use gas cylinders from e.g. SodaStream, AGA, Grohe, etc. At bubliq, we distribute gas cylinders from Nordic Soda. Their carbon dioxide is produced in Denmark at a price 30% below the market price.
More flavor, better taste!
Vidste du, at frugt, grønt og urter frigiver mere smag til din drik, når det tilsættes kulsyre? Du kan derfor med fordel komme dit yndlingsgrønt i flasken sammen med din drik. Smag selv efter, næste gang du laver danskvand med friske bær.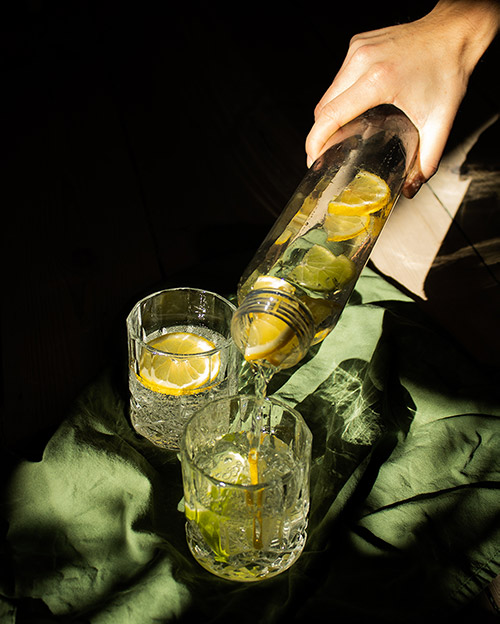 Du skåner både miljøet og sparer penge, når du køber en bubliq drink carbonator. Med bubliq laver du perlende frisk danskvand helt ned til 1,70 kr. pr. liter. Samtidig reducerer du dit CO2 aftryk og skåner vores miljø  for hundredevis af plastikflasker.