bubliq is more than a soda maker.
bubliq is a drink carbonator that combines minimalistic design, ease of use and unique functionality in the world's slimmest soda maker.

Why bubliq drink carbonator?
Nordic minimalism
bubliq drink carbonator is with its 8 cm wide body the world's slimmest soda maker! The slim, minimalistic design will look great on any kitchen counter.
Easy operation
Tired of clumsy soda makers that are difficult to use? bubliq drink carbonator combines slim design and ease of use. Thanks to the Air-Charge technology you simply put the infuser cap on the bottle, insert the bottle on the stand, and carbonate by pressing the top a few times. No screwing or bending of big bottles like on the old soda makers.
Sparkle ANYTHING!
bubliq drink carbonator is more than just a soda maker. It is a carbonator that adds fizz to ALL your beverages. Turn your wine into sparkling wine or make a fizzy lemonade. You can even carbonate drinks with fresh fruit and vegetables! It has never been easier to make delicious drinks!
Reliable
With bubliq's patented system, you can safely add fizz to all your drinks. The unique structure of the carbonation system makes it possible to sparkle your drinks without running the risk of foaming over or blocking the valve.
Easy to clean
Unlike other soda makers, the infuser tube on bubliq drink carbonator is mounted in the cap which makes it fast and easy to clean. By keeping the infuser cap clean, you ensure the hygiene is always at its best.
Compatible with all gas cylinders
bubliq drink carbonator uses a universal connector that makes it compatible with all 425 g gas cylinders. This means you can use gas cylinders from e.g. SodaStream (except SodaStream Quick Connect), AGA, Grohe, etc. At bubliq, we distribute gas cylinders from Nordic Soda. Their carbon dioxide is produced in Denmark at a price 30% below the market price.
More flavor, better taste!
Did you know that beverages with fresh fruits, vegetables and herbs release more flavor when carbonated? This means, you get more flavor when carbonating your drink or water along with your favorite greens! Don't believe us? Try next time you make sparkling water by adding some fresh berries.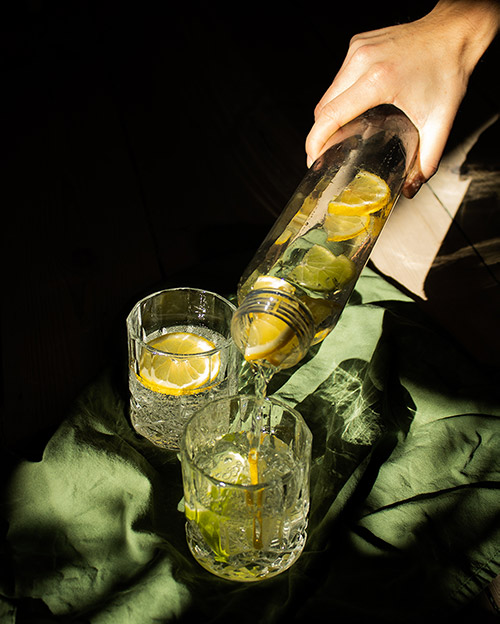 When you buy a bubliq drink carbonator you save money and spare our environment. With bubliq you can create fresh sparkling water at the cost of EUR 25 cent per liter. At the same time you reduce your CO2-footprint and save our environment from hundreds of single-use plastic bottles. 
Subscribe for refreshing news
Sign up to our newsletter and get the latest product news, tips, and exclusive offers. Right now, new subscribers get 15% off.